Start your 60-day risk-free trial
We're so confident your pet will see results. Start with our 60-day risk-free trial for your first purchase!
Get happiness in motion or your money back
We believe that Antinol®️ Rapid will put the spring in your pet's step. It's more than just a supplement. It's powerful by nature and backed by science.
Antinol®️ Rapid was created because the supplements market was full of myths and overstatements. Our founder wanted to develop a supplement that worked, with genuine research to prove it.
We are so confident that with Antinol®️ Rapid, you will see a difference in your pets mobility that we guarantee it.
If you are not 100% satisfied with Antinol®️ Rapid within the first 60 days, we will give you your money back.
60-day risk-free trial
Money back if you don't see results!
Check the reviews
Like humans, all of our furry friends are different, which means Antinol®️ Rapid may take different times to show results. Smaller, slimmer pets tend to see changes quicker than larger built dogs. But we guarantee you will see a difference in your pet within 60 days, or your money back.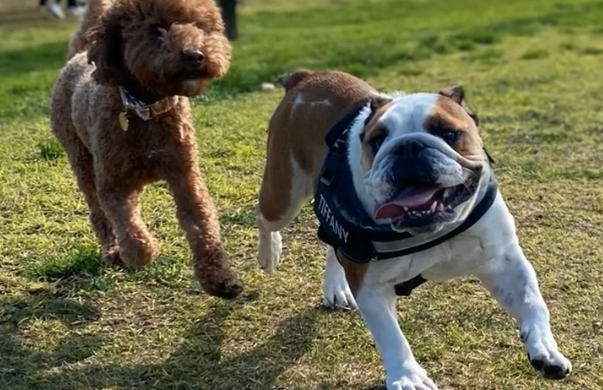 Tiffany the English Bulldog's transformation
Tiffany the English Bulldog at 5 years of age had gained weight and become very unhappy, reluctant to exercise and was sleeping a lot.
Most of all she missed going to her local park where she was known as "the captain" for her love of going around and saying hello to everyone there.
She was limping and unable to go more than a block walk at a time.

After taking Antinol Rapid, within the month, she was pain free. Her owners were able to increase her distance with her walks and now can walk her for up to 10km at a very fast pace. Her captain duties have resumed and she is her happy, "bursting with love" self again.
Woodie the Labrador retriever happy again!
When Arthritis is advanced and a dog is senior in age it can be difficult to get on top of making them more comfortable.

This was the case with Woodie and he was feeling very sad and sorry.

Woodie was previously on a prescription NSAID alongside a joint specific diet prior and the addition of Antinol Rapid made a world of difference.

Shelby the boxer loving life
Up to 80% of dogs over age 8 are diagnosed with arthritis based on radiographic and clinical data. Shelby the boxer was just one of them.

Shelby is a rescue girl with a face that just makes you melt. She ended up in the family she was meant to be with. And is now living her best life on Antinol rapid.
Discover the difference.
Wal the Kelpie - Back in the Game
Wal the Kelpie - a true blue country lad. Handsome as hell with a huge heart. Antinol Rapid hall of famer. Was and always will be a Rockstar.

Meet Wal a 13 year old Kelpie.
Retired athlete who competed in Masters Agility and jumping in addition to yard trials. He was diagnosed with Hip Dysplasia at age 10.
Franklin started Antinol Rapid on the 2/1/2020, he went from a dog who wouldn't play, wouldn't wander around, stayed in bed, couldn't sit - would only lay, to a dog that runs and plays and finally looks happy. Antinol Rapid has changed Franklin's life and I can now see him having many more years In comfort. Franklin was meant to start steroid injections and anti-inflammatory medications but thanks to Antinol he can avoid that now. I am so so thankful for Antinol.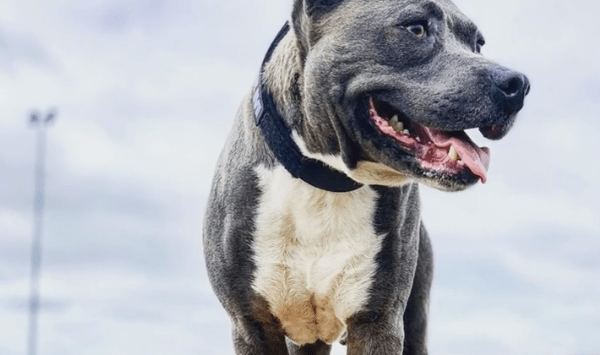 Since the introduction of the Antinol Rapid we have seen a large increase in the response/detail of owners regarding the positive impact it has had on skin and coat.
Meet Storm – American Staffordshire X
5 years old and incredibly fit and handsome!
Happy dog Happy life. And don't we all know it!
Curly suddenly collapsed one day and could hardly walk.
He was diagnosed with bulging discs pressing on his spinal cord.
Antinol was part of a multimodal approach to getting him better.
We loved hearing he is now on Antinol alone and back to enjoying life fully.
Here's how it works
Most pet parents see a difference within 30 days. Some quicker. But all pets are different, and some may take up to 60 days to respond. That's why we give you 60 days to try it risk-free.
Not sure about results? Talk to us.
If you think you aren't seeing results contact us here. We may have some hints that could help in your pet's specific case.
No results? Contact our team.
If, after 60 days, you haven't seen any results, reach out to our team and we'll organize a hassle-free refund!
We'll refund your first purchase.
Once we've received your refund request, we'll give you a full product refund.
What you waiting for?
Ready to buy? Get started with our starter kits
Trustpilot reviews
*Testimonials are for informational purposes only. The information is not a substitute for expert veterinary care. Testimonials are written by actual customers and represent their own observations. These observations are not guaranteed, are not medically substantiated, and may not be typical for other pets.
FAQs
What is the 60-day risk-free trial?

We offer a 60-day risk-free trial to all our new customers. Simply purchase one of our starter kits, try it with your pet for 60 days and if you don't see results we'll give you a full refund on your order.

Antinol® Rapid is a potent blend of two marine lipid concentrates chosen for their unique nutrient synergy. Together, the powerful and effective blend is called EAB-277™or Enhanced Animal blend. Formulated to promote optimal benefits, our enhanced blend EAB-277™contains the full spectrum of all known Omega 3's in highly bioavailable form as well as other vital Polyunsaturated fatty acids (PUFAs) and antioxidants.

Where is Antinol® Rapid manufactured?

Antinol®︎ Rapid is manufactured in New Zealand from Perna-Canaliculus Mussels/Green Lipped Mussels and high phospholipid krill oil. Every batch is tested for stability and purity and it is routinely recommended by veterinarians around the world.

Does Antinol® Rapid have any side effects or allergic reactions?

Antinol® has been reviewed internationally by veterinarians in published trials, is seen as safe to use and does not interact with other medications.

- Suitable for long-term use for symptoms or as a preventative / wellness supplement

- 100% natural, patented and stabilised oil – contains no mussel powder

- Free from mercury, cadmium and other heavy metals. Clear from toxins

- No synthetic preservatives or fillers

- Fully traceable and sustainable

- No known contraindications*

*the safety of this product has not been tested in pregnant or lactating animals. May contain a minute amount of tropomyosin protein

Are there any discounts available?

When you tailor your subscribe and save plan, you can save 5% on each order and receive free express shipping. You decide the delivery schedule that works for you and have peace of mind knowing there's no obligation or cancellation fees.

How long before I can expect to see differences in my pet?

Each pet is different! If there are visible mobility issues, most pet parents see results in 10-14 days, depending on age, level of discomfort, and weight. For optimal results, try Antinol daily, for at least three months, and visit your vet for regular evaluation.

Can I give one capsule in the morning and one in the evening?

More than one capsule; feel free to split the capsules between morning and evening.